First drive: Mercedes-Benz EQE 500 4Matic prototype review
There's also a clear sense of familiarity from the EQS inside. The driving position isn't as low as that of the Porsche Taycan but still low enough to make it feel quite snug. 
This feeling is further enhanced by a high centre console and relatively shallow glass within frameless doors.
Buyers will also be able to choose between separate instrument and portrait-orientated infotainment displays or Mercedes' impressive Hyperscreen, which stretches across the entire width of the dashboard.
Refinement is the area in which the EQE makes the biggest impression initially. Even by EV standards, it's wonderfully silken and whisper-quiet, just like the EQS.
However, the steering, while direct in typical Mercedes style, is a little heavier than that of the EQS. It's well judged, too, making the EQE easy to wield, and possessing a confidence-building seam of weight and resistance as the pace increases.
Performance is also excellent, and responsive, just as you would expect. At 4946mm long, the EQE is quite a big car, yet it accelerates with all the enthusiasm and athleticism of a smaller, lighter offering. We expect 62mph to be reached in about 5.0sec.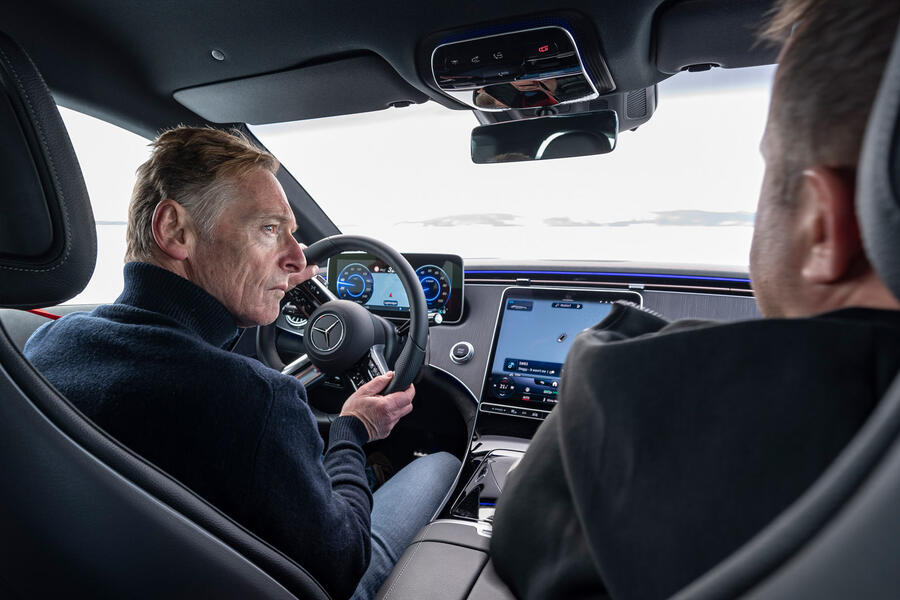 Driving an EV on ice can be a daunting experience owing to the instant power delivery and near- silence. However, the on-demand torque-channelling of the 4Matic system, which effectively provides individual drive to each wheels, and rapid-acting stability control, endows the EQE with quite breathtaking traction and all-round predictability.